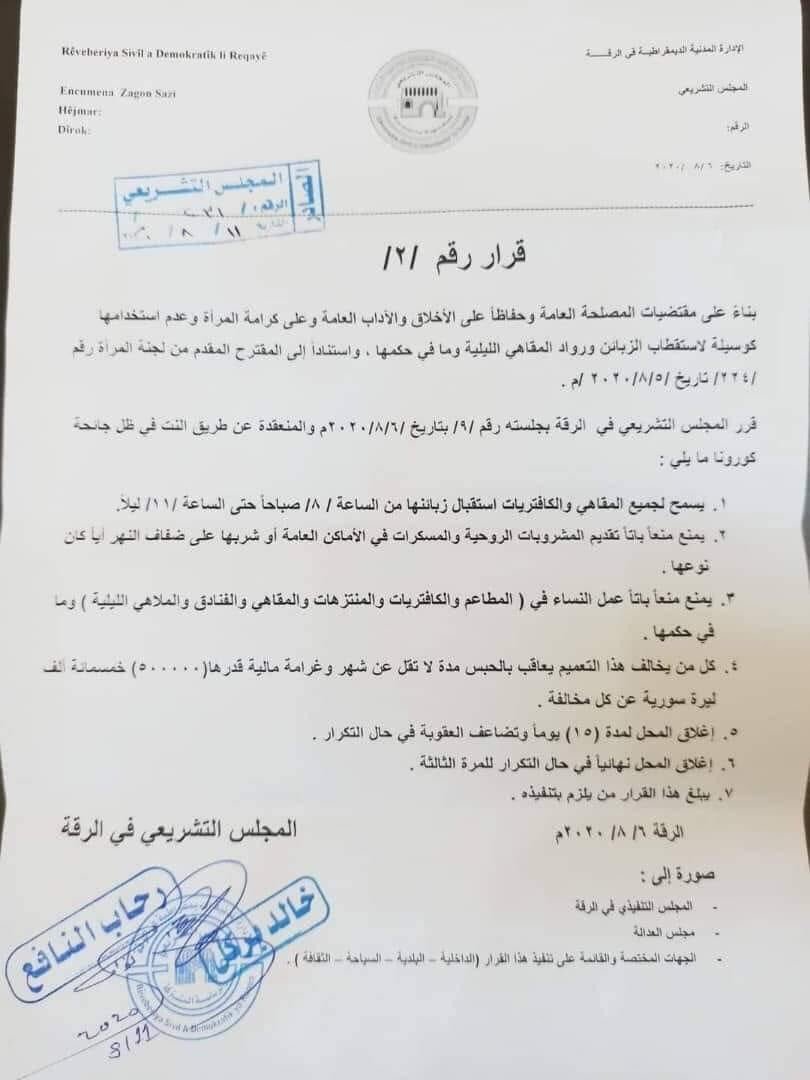 A recent ruling from the Raqqa Civil Council bans women from working in "cafeterias" in the city, as well as banning the public consumption of alcohol. On the one hand, the ruling provides an example of North and East Syria's devolved political system in action, with the administration in Raqqa free to adopt more conservative measures compared to the Kurdish-majority border regions. On the other hand, some commentators suggested that the aspect of the ruling banning women from employment in cafeterias was not in line with the AANES' much-vaunted pro-women policies.
Rojava Information Center spoke with Farouz Khelil Mohammed from the Women's Office of Raqqa Civil Council to find out more about this decision, why it's been implemented, and who will be affected. She explained that this ruling specifically targets cafeterias which serve as a front for prostitution, rather than ordinary restaurants, and that the Women's Office is working with the scores of women affected by the decision to find them other forms of employment.
Why have you taken the decision to close these cafeterias down?
We made this decision based on what the people wanted. They came to us and complained, saying that there are 'cafes' that have been opened in Raqqa where women are being manipulated and used for immoral work. Young children are being forced to work in these cafes against their will, and drugs are being sold.
Our enemies target women, and seek to prevent the women's revolution here from being successful. Such things are being carried out in Raqqa today. People connected to the regime have entered the city and have opened these cafes, where immoral acts are being conducted as they open after midnight. The civilian population complained to us about this, and so we wanted to take this step in accordance with their wishes. As the Women's Office of Raqqa Civil Council we finally took this step following a meeting with civilians in which there were many complaints about this subject.
It was we who made this decision was targeted not at restaurants, but cafeterias; places where people go wanting to relax. There are people in Raqqa who are manipulating women in these places. Women are made to work there, their will is broken. All kinds of immoral acts are committed against women in these places.
Doesn't this ruling run the risk of punishing women who may have no other choice than recourse to sex work in order to survive?
The women who work there may feel they have no other choice, but there are many women who are active in all fields in Raqqa, including security, civil society, diplomacy, and women's education. There are women employed from the Civil Council all the way down to the communes, by NGOs, by other bodies. As the Women's Office and the Civil Council, we regularly find work for women, and for us it is essential that this work enables women to develop, to improve their minds and achieve true freedom and take up their place as women in society.
But our enemies don't want this, and they want to manipulate women to prevent them from achieving this status. As the Women's Office, we took this step and established this law to prevent our enemies from carrying out this dirty work. The law does not stand alone. At the same time as establishing this law, we are in contact with all of the women who were working in these places, and if they have any needs we are meeting them, and helping them to leave this dirty work behind, rather than abandoning them in that situation.
As the Women's Office, we are absolutely not against women working in restaurants. This is a good and respectable kind of work. But the situation we are talking about in Raqqa is not like this. The people of Raqqa asked us to put a stop to these immoral activities, but if a woman wants to participate in clean, respectable, official work, we have no problem with this. These cafes serve to manipulate women, however, and so we took the decision to close them.
How has this decision been received in the city?
Raqqa is organized along tribal lines, and politics in the city are highly connected to the tribes and sheikhs. And this decision we took made the sheikhs very happy, that as the women's movement we took these steps within our city to deal with these issues, which indicates that we respect the tribal culture.
https://i2.wp.com/rojavainformationcenter.com/storage/2020/08/raqqa-qomn.jpg?fit=810%2C1080&ssl=1
1080
810
Rojava IC
https://rojavainformationcenter.com/storage/2020/02/ric-top.png
Rojava IC
2020-08-11 20:21:44
2020-08-11 20:22:13
Interview: "These 'cafes' manipulate women, and so we shut them down" – Raqqa Women's Office